EXCELLENT CAIE RESULTS IN 2019!
THE STUDENTS OF PRIMUS PUBLIC SCHOOL 
HAVE MADE US PROUD YET AGAIN!
IGCSE, AS & A Level students of Primus have outdone themselves this year! 
AS & A LEVEL
77% of our students secured a First class and two of our students scored 90% and above in their board exam.
Pranav Muralidhar topped the school with 94.33% in his A levels. He secured A*s in 4 subjects at A level and an A grade in English at AS level. 
Divit Singh did us proud by scoring 98% in Math in the AS level exams.
IGCSE
Out of 54 students, 32 have secured a Distinction. Sidharth Sudhir is the school topper with 94.38% . 64% of our students secured A* and A grades. Medha Murti scored 8 A* and we have a total of 13 students who scored 6 A* or more. More than 95% of our students scored a First class.
Two of our students scored centums in Mathematics: Kushal Mohta and Sidharth Sudhir. 
CONGRATULATIONS TO ALL OUR STUDENTS! KEEP THE PRIMUS FLAG FLYING HIGH!
PRIMUS STUDENT – IGCSE WORLD TOPPER IN CHEMISTRY & PHYSICS
Srirama Prakhya, a Class 10 student of Primus Public School in the city, is the world topper in Chemistry and Physics in the Cambridge International IGCSE examinations held in June 2015. Top in the Country in French and High Achiever in International Mathematics. He has also been declared the Best(First Place) Across Eight Cambridge IGCSEs!
KUDOS TO OUR IGCSE STUDENTS – 2014
The Primus IGCSE students have done themselves proud again!
The results of this year's exams are the best yet!!!
This year our students have got 30 A*s and 60 As.
More than 75% of all our students got A/A* in Physics.
More than 50% of all our students got A/A* in ICT and Chemistry
More than 40% of our students got A/A* in Math
Over all, we had nearly 45% of the students getting merit and distinction certificates.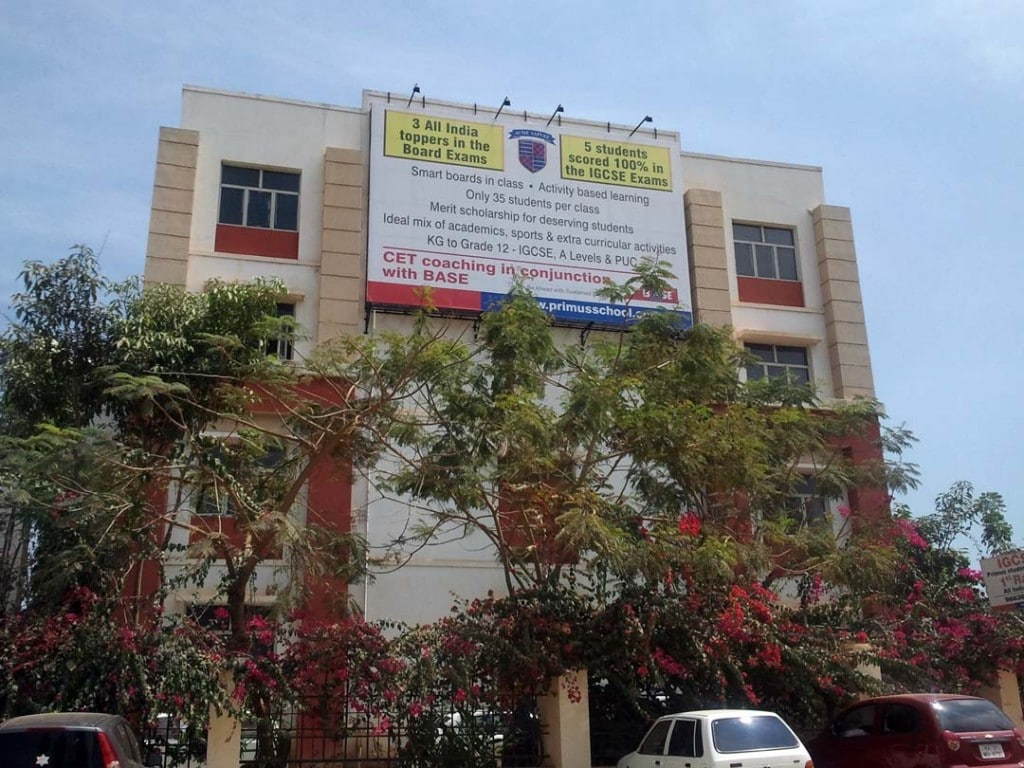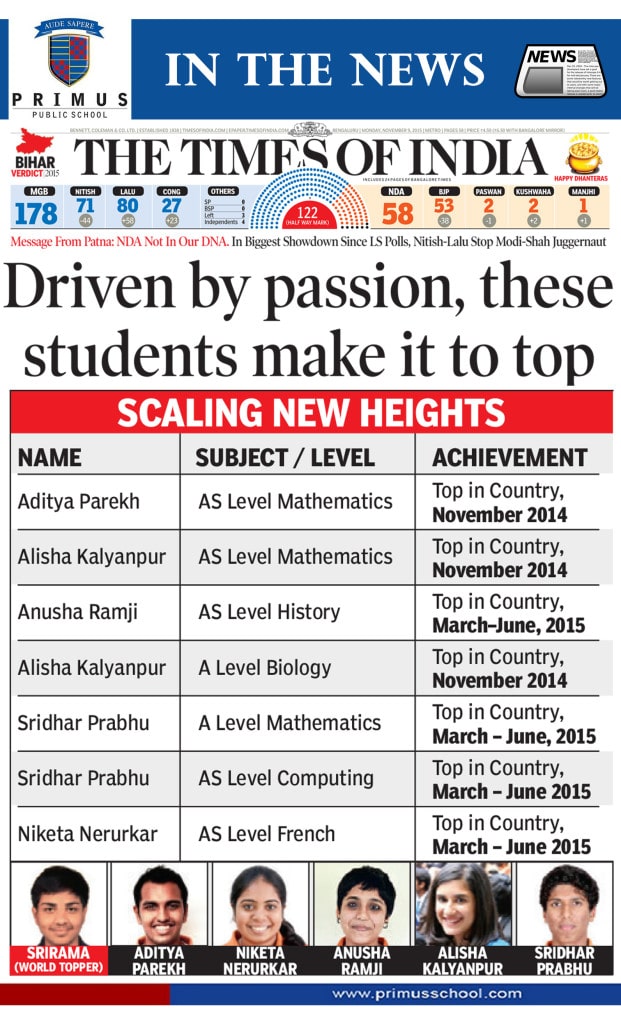 Get in Touch
Phone:
+91-9606049151 / 9606049152.
Admission: +91- 9606049153 / 9606049165
Security: +91- 9606049154
Email: [email protected]
For Admin related queries:
Email: [email protected]
Office Timings:
Monday

 to 

Friday

 – 

8:30 AM to 4:00 PM

School tour 3:00 PM to 3:45 PM
Saturdays – 

9:00 AM to 1:30 PM

Holiday on Sunday
Office Timings during vacations:
Monday

 to Saturdays – 

9:00 AM to 1:00 PM