2017-18
Primus students have done remarkably well in the CAIE exams. About 77% of the students' grades were A or A*. Aparajita Singh secured 9 A*s while Pooja Kunaparaju got 8 A*s. There were 10 other students who got 6 & 7 A*s each. Here are some of the top scorers who scored more than 90%:
Divit Singh (95.43%)
Medha Shashidharan (93.13%)
Aparajita Singh (92.67%)
Pooja Kunaparaju (92.5%)
Byul Han (91.13%)
Yash Godambe (91.5%)
Laasya Eluri (91%)
In the AS and A Level exams, our students have performed splendidly with about 15% of the students achieving A and A*. They have gone on to study Engineering, Veterinary Science, Environment, Communication Design, Culinary Arts and Business Finance and Marketing at Universities in London, Germany, USA, Australia, Vellore, Manipal and Bangalore.
PRIMUS STUDENT – IGCSE WORLD TOPPER IN CHEMISTRY & PHYSICS
Srirama Prakhya, a Class 10 student of Primus Public School in the city, is the world topper in Chemistry and Physics in the Cambridge International IGCSE examinations held in June 2015. Top in the Country in French and High Achiever in International Mathematics. He has also been declared the Best(First Place) Across Eight Cambridge IGCSEs!
KUDOS TO OUR IGCSE STUDENTS – 2014
The Primus IGCSE students have done themselves proud again!
The results of this year's exams are the best yet!!!
This year our students have got 30 A*s and 60 As.
More than 75% of all our students got A/A* in Physics.
More than 50% of all our students got A/A* in ICT and Chemistry
More than 40% of our students got A/A* in Math
Over all, we had nearly 45% of the students getting merit and distinction certificates.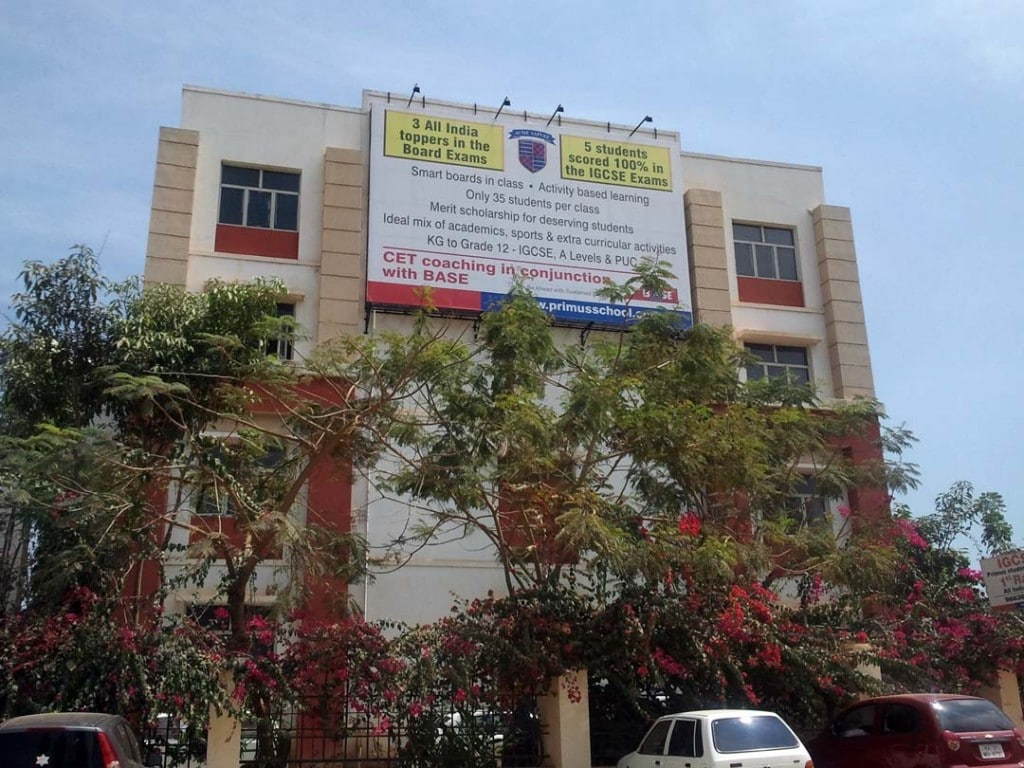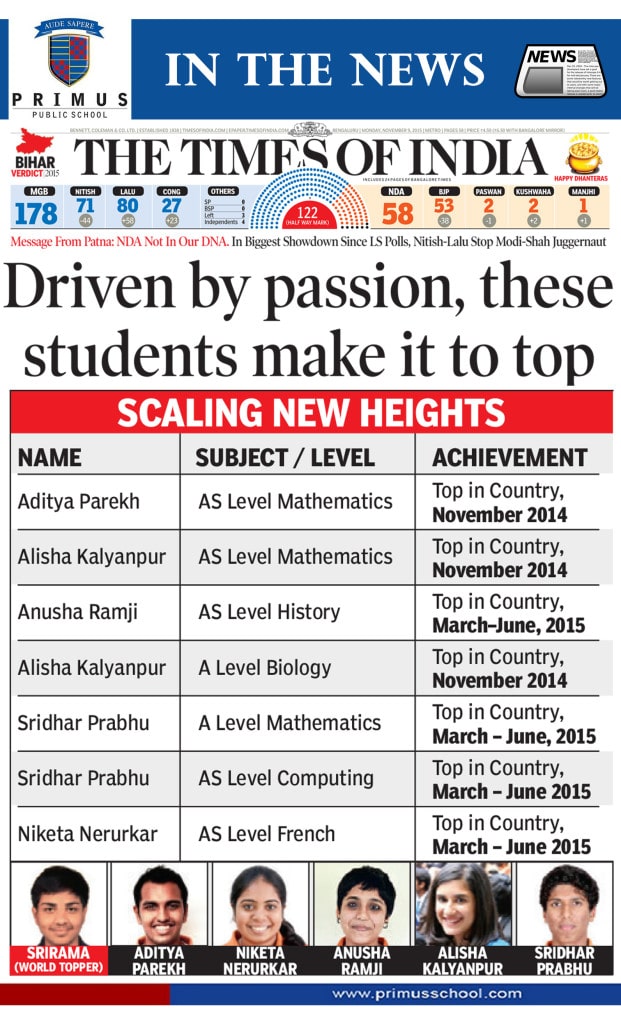 Get in Touch
Phone:
+91-80-2574 1450 / 51 / 52.
Admission: +91- 9606049153
Security: +91- 9606049154
Email: [email protected]
Office Timings:
Monday

 to 

Friday

 – 

8:30 AM to 4:00 PM

 
School tour 3:00 PM to 3:45 PM
Saturdays – 

9:00 AM to 1:00 PM

Holiday on Sundays and 3rd 

Saturday
Office Timings during vacations:
Monday

 to Saturdays – 

9:00 AM to 1:00 PM